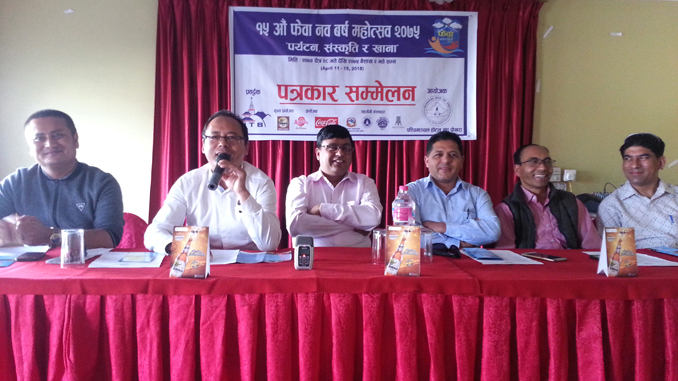 Pokhara—The preparation of the 15th Fewa New Year Festival 2075 is undergoing in Pokhara. Holding a press meet, organizer Paschimanchal Hotel Association Pokhara (PHAP) Chairman and festival coordinator Bikal Tulachan informed that a total of 40 including food and business stalls would be installed in the festival that is going to be held at Komagane Park of Lakeside from April 11 to 15.
With a slogan Let's Save Fewa Lake, the festival aims the promotion of Pokhara in domestic and international tourism market. According to Tulachan, some 0.1 million tourists have been expected during the festival. Visit, Educational Tour and two of honeymoon packages also have been revealed targeting the Fewa festival.
Hotels' booking for festival has already been opened and according to Tulachan the present occupancy of Pokhara hotel is about 60 percent. Nepali and continental dishes, cultural programs, duet songs, pop concert, tourist race, boat race, trading stalls, comedians' show, open dance competition, Ratauli songs and children parks are some of the major attractions of the festival, informed PHAP General Secretary Ganesh Raj Pahari in a press meet held in Pokhara today.
The festival aims Rs 5.6 million income and Rs 705,000 saving. Arna Beer is going to sponsor the festival that is being promoted by Nepal Tourism Board. Arna Beer regional representative Kedar Gauli vowed that his company would support the Fewa Festival as per understating clinched between PHAP and his company.