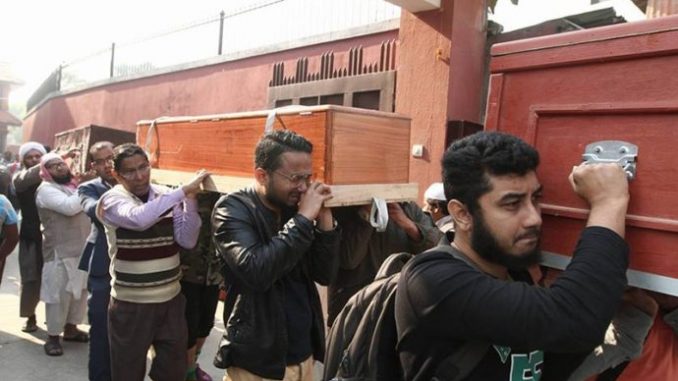 Kathmandu—The dead bodies of 23 Bangladeshi national who were killed in US-Bangla aircraft crash in Tribhuvan International Airport have been flown back to Dhaka this afternoon, the airport spokesperson Prem Nath Thakur confirmed. A special Bangladesh Air-Force flight has landed at around 12:45 pm at TIA and was taken off after an hour of that time.
A cargo aircraft of Bangladesh Air Force, carrying the bodies, was scheduled to land at Shahjalal International Airport around 3 PM, informed Kamrul Islam, general manager of US-Bangla Airlines.
The Bombardier Dash 8 Q400 was flying 71 people including four cabin crews while attempting to land at Tribhuvan International Airport but crashed on landing, on March 12. A total of 22 people survived the crash, of which 11 were Nepali.
Among the dead, 26 were Bangladeshis, 22 Nepali and the other was Chinese. The bodies of the Nepali and Chinese were already given to their relatives on Saturday. Kamrul said the bodies of 23 Bangladeshis were identified until March 18. The rest three bodies – Alifuzzaman, Mohammad Nazrul Islam and Pias Roy – could be identified today, officials said.