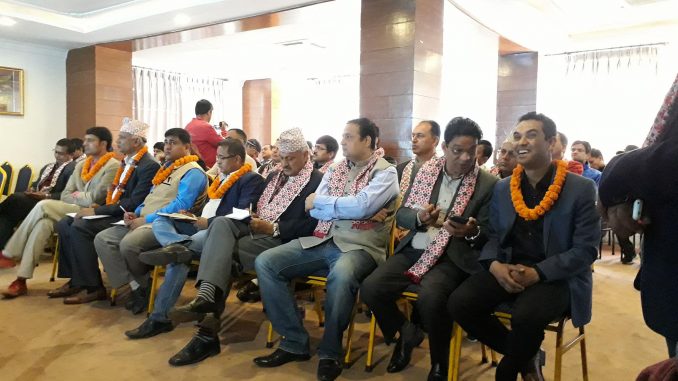 Pokhara—Formulation of policy and the infrastructure development have been sought for the development of sports tourism in Province 4. Speaking in an interaction organized by Nepal Sports Journalists Forum Kaski in Pokhara on Wednesday, lawmakers, minister, stakeholders and entrepreneurs stressed on a need of proper policy making and infrastructures.
At the same time, Province 4 minister for Industry, Tourism, Forest and Environment Ramsharan Basnet said that Pokhara could be a popular destination of sports tourism. He further added that there are nine lakes alone in Pokhara but according to him swimming competition of national game could not be happen in this town due to the lack of good swimming pools. He also reminded that Province 4 is rich for adventure tourism and cultural activities. Minister Basnet said that the water sports activities could uplift the tourism of Pokhara region.
NSJF central Chairman Mahesh Acharya made clear that the key motive of this program was providing a message that the sports and tourism could be major factors in the development of Province 4. Province 4 assembly member Indradhara Bista said that horse racing and blue sheep hunting in Mustang could be the new products for tourists if they are promoted in interrogational market. Another assembly member Mohan Regmi pledged that the Province 4 government would work for the development of sports tourism in this region. NSJF central General Secretary Prakash Timilsina and Nepal Tourism Board Pokhara Chief Surya Thapaliya presented their papers during the program. Federation of Nepali Journalists Kaski Chairman Dipendra Shrestha made comment over the papers.
NSJF Kaski Chairman Keshav Pathak, National Sports Council member Khadga Ranabhat, former boxing player Ganesh Bahadur Bhattarai, Pokhara Tourism Council Chairman Kedar Nath Sharma, Western Regional Sports Development Committee Chairman Khagaraj Paudel, Kaski District Sports Development Committee chief Prakash Baral, Kaski District Cricket Association Chairman Sanjaya Kant Sigdel, training in-charge Krishna Timilsina, NSJF Kaski vice chairman Dinnath Baral, journalist Badri Binod Prateek and Basu Dev Paudel also expressed their views during the interaction supported by NTB.