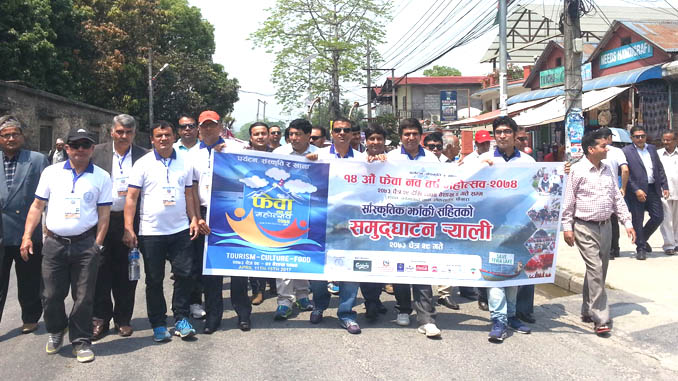 Pokhara—The Western Regional Hotel Association (WRHA) Pokhara is to organize 15th Phewa New Year Festival 2018 in Pokhara from April 11, 2017.
According to WRHA Pokhara Chairman and festival coordinator Bikal Tulachan, the five day long festival has been organizing on the occasion of Nepal New Year every year. Tourism, Culture and Foods are the key attractions of the festival that would be happened in Komagane Park along the popular Phewa Lake this year. A 35-member committee has also been formed to make the festival grand success.
With a slogan- Save Phewa Lake, the festival also aims to promote Pokhara in domestic and international market. Food stalls, cultural dances, duet songs, pop concerts, tourist race, boat race and Children Park also are the parts of the festival, informed WRHA Pokhara General Secretary Ganesh Raj Pahari.
As Nepali have been celebrating English New Year as per the Gregorian calendar with full of joys, WRHA Pokhara would also like to promote Nepali New Year in the same way. Pokhara is known as the tourism capital of Nepal and hoteliers from Pokhara have been thinking of developing Pokhara as a destination of round the year instead of dividing time season and off season.