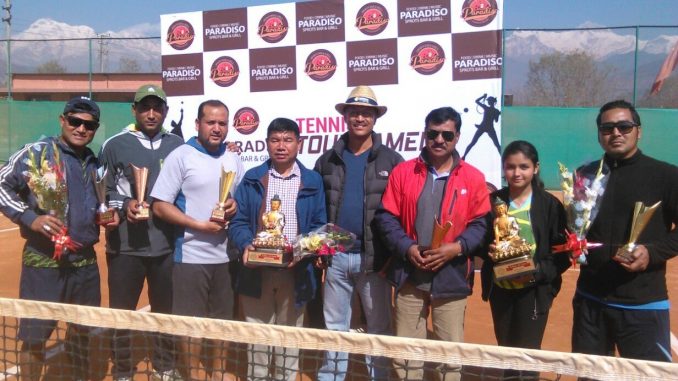 Pokhara—Gopi Bahadur Bhattarai lifted the title of Paradiso Cup Monthly Tennis Tournament in Pokhara on Saturday.
Defeating Dharm Singh Lamichhane 6-3, 2-6 and 10-5 in super tie, Bhattarai bagged the title in a final match held at the court of Pokhara Stadium. Laxman Tamang became first in new comer category. Tamang defeated Bikas Bhattarai 6-2 and 7-5 sets.
Bhattarai bagged Rs 5,000 cash while runner up Lamichhane got Rs 2,500 including a trophy. Rajan Bijukchhe in open category and Bishnu Baniya in new comer category got the title of rising player. Restaurant and Bar Association Nepal Pokhara Chairman Chau Bahadur Gurung distributed the prizes of the tournament organized by Kaski District Tennis Association and sponsored by Paradiso Sports and Grill Bar.
KDTA Chaiman Binod Kayastha said that the monthly tennis tournament has opened the new chapter in the tennis development of Pokhara. Mesuka Sports will host another series of monthly tennis tournament, informed KDTA Secretary Lok Gurung.