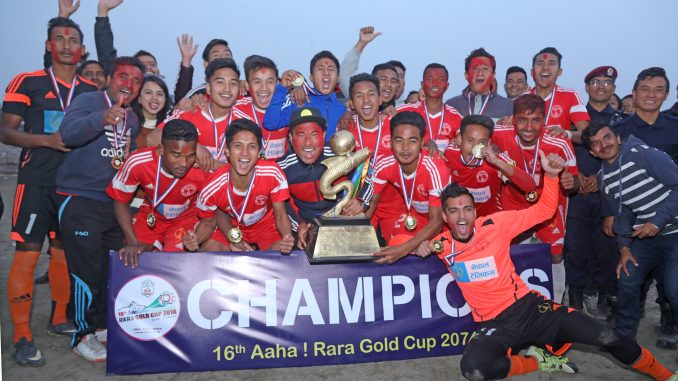 By Rup Narayan Dhakal : Pokhara—Nepal Police Club lifted the title of 16th Aaha Rara Football Tournament here in Pokhara Stadium. Beating Three Star Club 1-0, NPC got Rs 7,01,000 including trophy. Similarly, runner up TSC got Rs 3,51,000.
Solitary goal from Ram Wajee gave NPC Aaha Rara title for fifth Time. Nir Kumar Rai created opportunity to Wajee to score in the injury time of first half of added 20 minutes time as the regulation 90 minute time was deadlocked with no goal from both the sides. NPC had also won the title of Caravan Gold Cup. NPC Roshan Khadka was given red card as he break the rule by entering ground following the goal from their side.
NPC Rabi Paswa got the prize of best player of the tournament. He received Hero Dash scooter. Ananta Raj Thapa of winner team got the prize of best coach. TSC's Biswas Shrestha was awarded as best striker. TSC Sunil Bal got the prize of best mid fielder. Ajit Bhandari of NPC became best defender. Satrughan Chaudhari of NPC got the prize of best goalkeeper. They all got Rs 15,000 each. Likewise, Far Western- XI team became the disciplined team. Suman Lama of NPC and Biswas Shrestha of TSC who scored 3 each during the tournament shared the prize of high scorer.
NPC coach Thapa said that his strategy remain success as his team won the match. TSC coach Megh Raj KC said that his boys failed to utilize some beautiful opportunity. A total of 12 teams from Nepal, India and Bangladesh took part in the tournament organized by Sahara Club Pokhara and sponsored by Himsri Foods Pvt Ltd. Organizer Club chairman Keshav Bahadur Thapa and tournament coordinator Hari Ram Gurung thanked all for contributing to make the tournament success. Member Secretary of National Sports Council Keshav Kumar Bista including others distributed the prizes during the concluding ceremony.