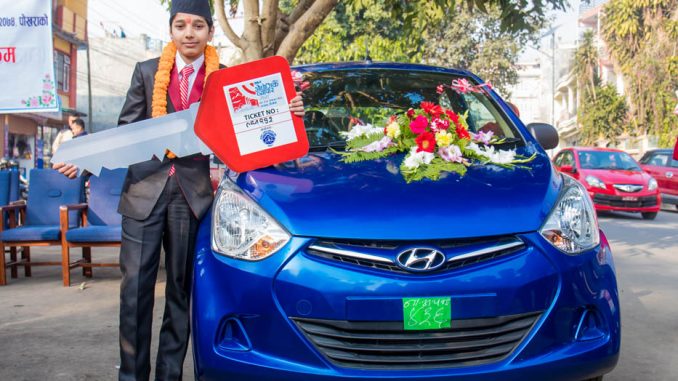 Pokhara—Pokhara Chamber of Commerce and Industry (PCCI) has handed over a car to Sandip Paudel who won it in lucky draw carried out in entry tickets of Safal National Industrial Trade Fare and 2nd Mobile Festival 2018, in Pokhara on Sunday.
A car through lucky draw was promoised in an entry ticket of the festival. Sandip was chosen among the visitors of the festival who entered festival by the ticket of the festival. Pokhara Lekhnath Metropolitan City (PLMC) Mayor Man Bahadur GC handed over the key of car to Paudel during a program organized near PCCI official building this morning.
PCCI Chairman Bishwo Shankar Palikhe congratulated car winner Paudel, 15, who is a nine graded student from Kusma of Parvat district. His father Narayan Prasad Paudel is in police service. Sandip who bought a ticket number 054892 was picked as a lucky number in the day of festival ending on January 22 at Pokhara Exhibition Center. Sandip got Hundai EON car costs around Rs 1.8 million in Nepal.