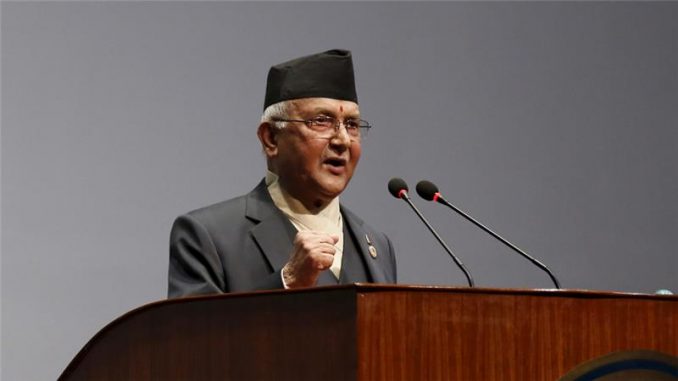 Pokhara—CPN UML chairman and former Prime Minister KP Sharma Oli said that the recent decisions made by the PM Sher Bahadur Duba led government were unacceptable.
Addressing a 13th Annual General Meeting of Association of Community Radio Broadcasters Nepal (ACORAB) in Pokhara on Friday, chairman Oli accused the government of making recent decisions to gain cheap popularity. According to him, if the cabinet made recent decisions are implemented, that would empty the government fund and upcoming government could not do function properly. "All the decisions that government made are against the spirit of Nepali people." Oli added.
The cabinet had made few decisions that the earthquake victim will get Rs 1 lakh more and a person will get elderly allowance once he/she becomes 65 year old. Oli further claimed that the government is still fail to grant first tranche of aid to earthquake victims.
According to Oli, all the government decisions are against the people vote, prosperity and democracy. CPN-MC leader Krishna Bahadur Mahara, Nepali Congress spokesperson Bishwo Prakash Sharma, Rastriya Janta Party general secretary Manish Kumar Suman also expressed their remarks during the program. The AGM been participated by 300 community radios representatives across the nation, informed ACORAB chairman Subash Khatiwoda.