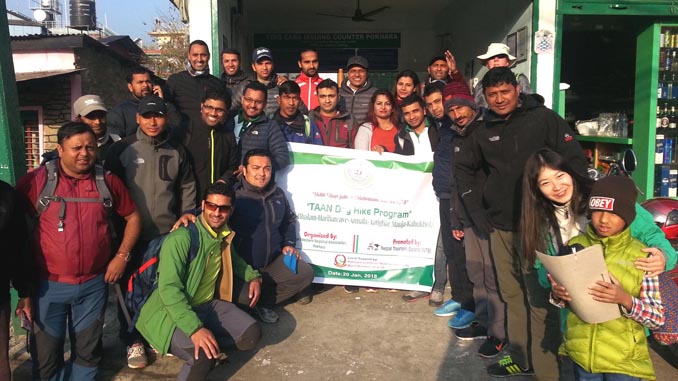 Pokhara—Trekking Agencies' Association of Nepal (TAAN) Western Regional Association Pokhara has organized a day-hike in the hillside of Pokhara on Saturday.
The hiking began from Deep and went through Harihar Cave, Armala, Aantighar and Mauja to reach Bijaypur Khola. According to TAAN WRA Pokhara Chairman Deepak Raj Adhikari, exploring and developing a short trekking route near Pokhara valley is a key motive of that hiking. Adhikari also sees the potentiality of religious and yoga tourism in and around the Harihar Cave area as the place is very peaceful and sacred. TAAN carried out this hiking after it explored a week long trekking route from Deep to Kahphuche Glacial Lake in Madi Rural Municipality- 1, in Kaski District.
Harihar Cave was formally come into existence following the order of than Rana Prime Minister Jung Bahadur Rana to carry out formal pooja in cave area in 1906 BS, informed Bishnu Khatri former vice chairman of cave management committee. During a day hike, TAAN WRA has distributed some warm clothes to a dozen of elderly people who have been resorting in Harihar Sanyas Ashram in cave area. According to TAAN WRA Secretary Sushil Raj Paudel the warm clothes distribution was a part of corporate social responsibility that his organization has been following for years.
Around four dozen of trekking operators from TAAN agencies including an US citizen Phil Holbrook and Korean citizen Aasha were the part of the day hike group. The plus point of this hiking trail is that the tourists shouldn't pay extra rupees 2,000 as entry fee as this area doesn't fall in Annapurna Conservation Area Project.
Addressing an interaction in Armala, social workers Tej Gurung and Karna Bahadur Gurung said  they were ready to welcome tourists to their village if TAAN supports the villagers. Pokhara Lekhnath Metropolitan City ward 16 chairman Jeevan Acharya said that tourism and agriculture could uplift the living standard of village people. TAAN WRA chairman Adhikari vowed they would conduct cooking, baking and hospitality training to Armala people before formally opening the day-hike route and Kahphuche trekking route.


Pictures: Rup Narayan Dhakal