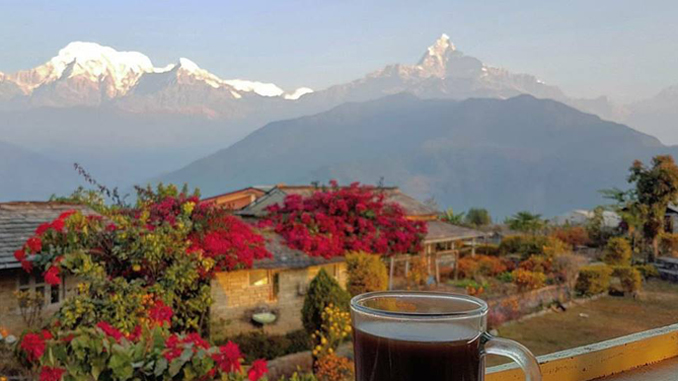 Pokhara—Astam Village in Annapurna Rural Municipality of Province number IV of Nepal has won the award of My Favorite Village 2017.
Village Monde and the Air Canada Foundation had announced Astam as favorite village at World of Sustainable Destinations campaign wrap-up event. The village won that award for its exemplary initiative in the sustainable and volunteer tourism field. Astam, with its Annapurna Eco-Village, won the award following a public vote and a large promotional campaign on social sites. From Central America to Asia via Africa and South America, ten dream destinations were in the contest. The 10 My Favorite Village finalists were chosen for positive impact in their area and for their warm, authentic hospitality.
In the farming village of Astam (1600m), the Annapurna Eco-Village and other homestay providers welcome travelers in beautiful rooms located in an huge garden. This volunteer initiative provides to decentralizing tourism income generated in Pokhara, the nearby tourism destination of Nepal, allowing several families from this village community to earn extra income and improve their standard of life. The accommodations offer an incredible view of Himalayan summits and may be the beginning point for many treks. It is a true location of retreat. Astam is also popular as homestay village and is a view point for sunrise and sunset. The village also gives the way to Mardi Himal Trek and Annapurna Base Camp Trek.
In this context, Village Monde is a Quebec philanthropic organization of social innovation that works internationally and was founded by Charles Mony, a successful entrepreneur. Village Monde promotes the development of a sustainable tourism network that produces wealth and contributes to improving living conditions in remote and marginalized communities. Village Monde is about more than just travel. The Air Canada Foundation, a not-for-profit organization focused on the health and well-being of children and youth, was launched in 2012.

Pictures: Rup Narayan Dhakal