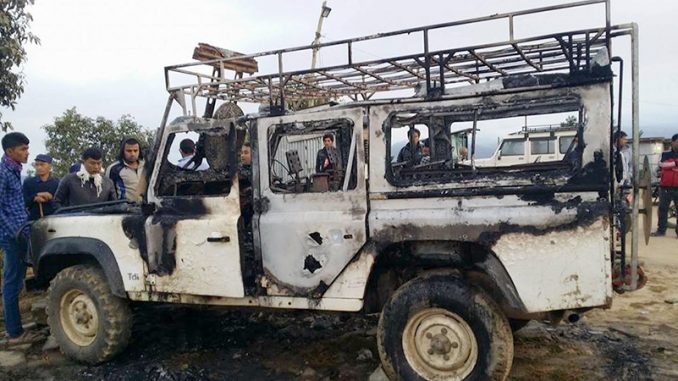 Pokhara—At least three left alliance cadres have been injured when they were attacked by the alleged supporters of democratic candidates at Pikuri of northern Nuwakot last night. According to Nuwakot Inspector Kailash Bhattarai, injured are being cured in Nuwakot City Hospital and Research Center. Two of the attackers have been nabbed by police. CPN-UML and CPN-MC cadres were on their way after holding a electoral mass meeting in Kishpang rural municipality- 2.
Similarly, a vehicle that was being used by left alliance for electoral campaign was torched by an unidentified gang in Sankhuwasabha this morning. A Land Rover car, Ko 1 Ja 2123 that belongs to Ashish Shakya, was set on fire at 2 am while it was being parked in the bus park, DSP Santosh Khadka informed.
At the same time, an unidentified group has blasted a cooker bomb in a vehicle that was being used by Nepali Congress Electoral candidate Om Karki and was parked in front of driver Radha Krishna Thakuri's house in Jitpur of Bara. No human casualty has been reported.
Likewise, An Improvised Explosive Device (IED) containing in a bag has been recovered at Tute in Laligurans Municipality -1 of Terhathum this morning, informed Inspector Ganesh Koirala. Earlier, three motorcycles that have been using for electoral purpose have been torched in Parbatikunda rural municipality in Rasuwa on Sunday evening.
Nepal is going to hold parliamentary and provincial election on November 26 and December 7 and Netra Bikram Chand Biplav led Communist Party of Nepal Maoist has been opposing the polls. Almost all the attacks and explosions were not claimed by no group however the hand of Biplav led Maoist is believed in the incidents.