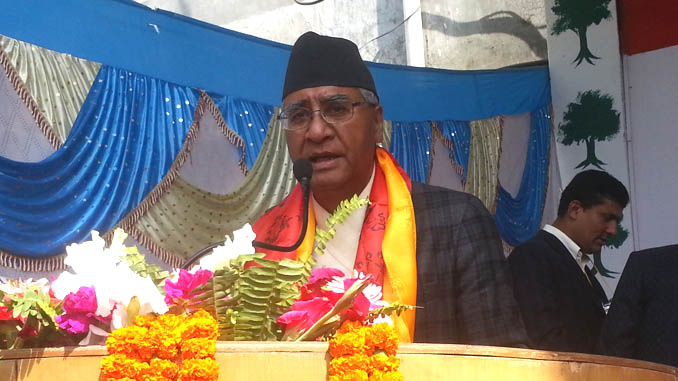 Pokhara—Prime Minister and Nepali Congress chairman Sher Bahadur Deuba accused CPN-UML and CPN-MC of forging left alliance against the nation and his party.
Addressing a mass meeting organized in Pokhara Exhibition Center on Saturday, chairman Deuba claimed that the left alliance is the way to authoritarian rule which according to him is dangerous for the nationalism. Deuba was speaking in a meeting where he welcomed former lawmaker and industrialist Surya Bahadur KC and Akhanda Nepal Party chairman Kumar Khadka to Nepali Congress.
Deuba further said that there is no place for the politics of fear in Nepali society. According to him, the left alliance wishes to fuel the politics of fear and authoritarian communist rule in Nepal.
Meanwhile, chairman Deuba also said that there is no guarantee that the voters who voted other parties in former elections would again vote same parties in upcoming elections. 'So, I would like to say that voters would change their mind and would vote for Nepali Congress this time.' he claimed.
Earlier, CPN-UML student wind All Nepal National Free Student Union Kaski leader Shekhar Gautam was arrested by police for showing the black flag to PM Deuba in Nagdhunga of Pokhara. He was arrested when a group of students was protesting against the recently passed Education Law from the house, in Pokhara.
Nepali Congress senior leader Ram Chandra Paudel, NC general secretary Sashanka Koirala, deputy Prime Minister and NC vice chairman Gopal Man Shrestha, Law Minister Yagya Bahadur Thapa, NC Kaski chairman Krishna KC, NC leader Sukra Raj Sharma, NC Kaski treasurer Laxmi Pandey, leaders Surya Bahadur KC, Kumar Khadka and NC leaer Ram Raj Lamichhane also expressed their views during the program.