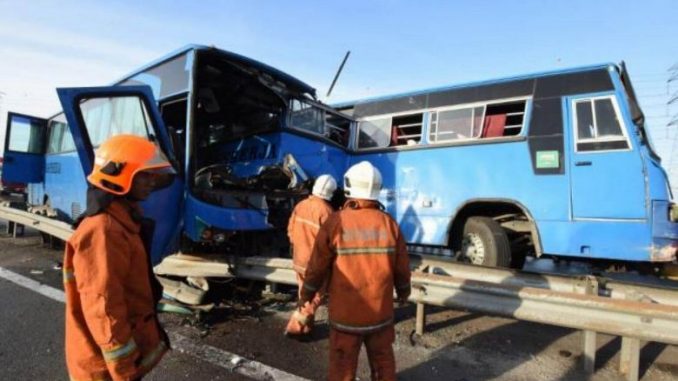 Bernama—Three women factory workers were killed and 23 other wounded in a three-vehicle accident at Km147 of Malaysia's North-South Expressway in Penang on Tuesday.
According to new reports, ten other people suffered light injury in the 5.30am crash on the northbound side near Juru Toll Plaza in Penang's Bukit Mertajam, informed Seberang Perai Tengah district police Chief Nik Ros Azhan Nik Abdul Hamid.
Seven of the victims were said to be Indonesians and the families of the victims will be identified after their bodies have been examined. The accident contained two factory buses and one factory van which were carrying a total of 40 passengers, all women and the three drivers were males.
The accident happened when the factory bus, which had pulled over to the left lane due to engine breakdown, was rammed from the rear by another factory bus on its way to send local workers, from Perak to a factory in Penang. The other factory bus was carrying Indonesian and Nepalese workers of a Sony factory, reports straitstimes.com.