Pokhara—A total of 35 foreign tourists from 13 different countries took part in 11th Bhai Tika Festival organized in Pokhara on Saturday. This festival has been organizing by Western Regional Hotel Association (WRHA) Pokhara on the occasion of Tihar for years.
According to WRHA Pokhara Chairman Bikal Tulachan, tourism promotion through Nepali culture and its celebration are  key motives of the festival. He also added that some of the tourists have come repeatedly to Pokhara to celebrate only Bhai Tika festival in recent years.
Bhai Tika falls on the last day of five-day long Tihar festival and it is the most auspicious and important day of the Tihar which is also known as the festival of lights, informed Bhai Tika coordinator Keshav Raj Pahari. Another coordinator Laxman Subedi thanked all the participants and journalists for taking part in the Bhai Tika festival.
Tourists received Tika from the Nepali sisters (students) from the Rainbow Children Home Pokhara. Bhailo songs, dances and varieties of foods including cellroti were the attractions of the festival promoted by Nepal Tourism Board.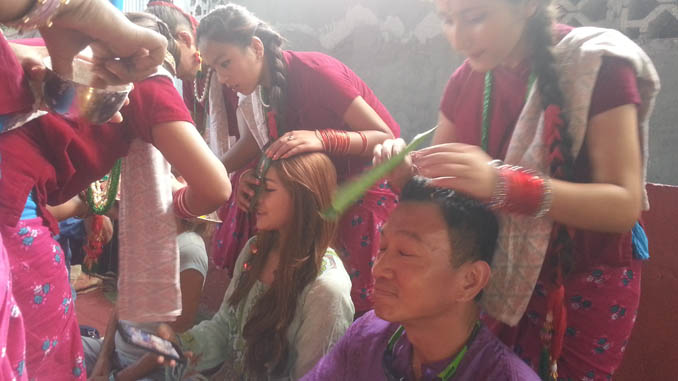 Pictures: Recentfusion.com