By Rup Narayan Dhakal : It is a story of a decade old and I was still suffering from knee ache as I had just back from Panchase trekking; however I prepared myself for the Annapurna Base Camp (ABC-4,130m) trek, one of the most popular trekking routes of Nepal.
It takes almost 10 days to complete the ABC trekking for most of the foreigners but I completed it in a week (Dec 21 to 27 of 2007) however it was completed only in five days as I first time was enjoying this trek in 2002. Beautiful but danger; it was the reaction of late poet Binod Gauchan, who had already been here, about the trekking of ABC so it was really an adventurous trekking for me too.
ABC is the best managed trekking route I have ever trekked. The route is independent and cleaned where one could find tea-house lodges in every another hour. The route starts from Phedi, Kande or Naya Pul along the Bhupi Sherchan (Pokhara-Baglung) Highway in Mid Nepal. The most of the parts of the route falls in Annapurna Rural Municipality and then Ghandruk Village Development Committee of Kaski District.
In my case, the trekking started from Naya Pul at 8 am and it took me almost 10 hours to arrive Jhinu which is also known as Hot Spring is famous for hot water spring situated in the bank of Modi River that follows along the ABC trekking route.
A local Sanctuary Youth Club welcomed me including my friends Ram Dai, Aarju Bista and Indra Paudel with beautiful garlands in Jhinu. I forgot all the aches as I immersed myself in hot water spring here. The night remained superb with locally brewed millet wine, delicious Dal-Bhat and cultural programs. Mr. Devi Sharma and Durga Gurung arranged that entire environment for us in Jhinu.
Having oranges, lemons, homemade pickle, chocolates, dried meat, next day we shorten our route and arrived at Chomrong (2,100m) which is the largest village in the ABC trek. Villagers and mother groups welcomed us here with same kind of yellow garlands made of marigolds. The atmosphere was chill and the wind was continuously blowing us though we were carrying enough warm clothes with us. It used to be felt cold as we stopped our hiking but sweating while on the walking. The unforgettable moment here was the big frog (Paha) that we ate along with the local liquor during the dinner.
The mineral water bottles are banned from Jhinu to ABC and the tourists are served hot water from filtering jar. No bottle of beers are available here however can beers could be enjoyed as per one's wish. Goods are carried by porters and the donkeys also are used to some extent. So, the price of goods is naturally expensive but it is not felt expensive as it is the highland area. Life is naturally hard here and people have to face cold environment and snowfall sometime.
The price of everything hikes as it goes upper spots. Local dishes are tasty and hygienic. Hot water shower and facility of electricity are also available in some areas but not in ABC at that time. The green forests, herds of sheep, roaring Modi, wildlife like deers and monkeys, amazing landscapes and high mountains are the major appendages of ABC trekking. Hiking routes have been constructed with stone steps, unforgettable hospitality; lovely and helpful people and cultural diversities unforgettably touched me.
Ever dining is covered with wooden sheet and the transparent glasses to bar the cold blow from outside. I could not forget the moment that we enjoyed the heat of kerosene-stove placed under the table to kill the cold. Foreigners also were enjoying such moment and they also were playing cards among the friends. The moment in Machhapuchhre Base Camp (MBC-3,700m) and ABC was really amazing. The face of Fishtail (Machhapuchhre) was not like that could be seen from Pokhara, as we were in the back of this mountain. There were snows everywhere and there could be seen vegetations hardly.
As it was the low season of tourism in Nepal, there were very few tourists doing up and down. They used to greet us in Nepali style saying Namaste. We celebrated our Christmas in ABC where around 30,000 tourists arrive annually. JB and Jagan Dai from ABC helped us very much.
There could be seen only ice and snow but no water however hotel entrepreneurs melt the snow and ice to change them into the water. I drank hot water (tatopani) in every spots. Hot water with squash was served as hot lemon and the beer glasses had been provided to drink water in most of the spots.
The camera battery charging facility was available only up to Sinuwa and it was difficult to save the battery's charge in cold environment however we succeed to take thousands of snap. The snowcapped mountains near ABC and MBC are really striking. Jokes of Ram Dai, Real Stories from Indra and talks with Arju remained very memorable for me.
We took part in a volleyball tournament organized at Chomrong while back to Pokhara and we defeated the team of hotel entrepreneurs here. The sanctuary Youth Club organized this competition during a Loshar, one of the biggest festivals of Gurung community.
Mountains
Hiunchuli(6,441m), Annapurna South(7,219m), Barah Shikhar (7,647m), Annapurna I (8,091m), Khangsarkhang, Singhchuli (6,390m), Tent Peak (5,127m), Annapurna III (7,556m), Gandhava Chuli (6,249m) and Fishtail (6,993m) could be observed from ABC. Glacier dome aka Tarkekang (7,193) and Gangapurna (7,455) could be seen only from MBC.
Routs
1.Nayapul-Birethanti-Saulibazaar-HImalpani-Newbridge-Chomrong-Sinuwa-Bamboo-Dovan-Himalaya-Deurali-MBC-ABC
2.Pedi or Kande Kande-Dhampus-Pothana-Deurali-Tolka-Landruk-Chomrong- Sinuwa-Bamboo-Dovan-Himalaya-Deurali-MBC-ABC
3.Napul-Birethanti-Saulibazaar-Kimi-Ghandruk-Chomrong-Sinuwa-Bamboo-Dovan-Himalaya-Deurali-MBC-ABC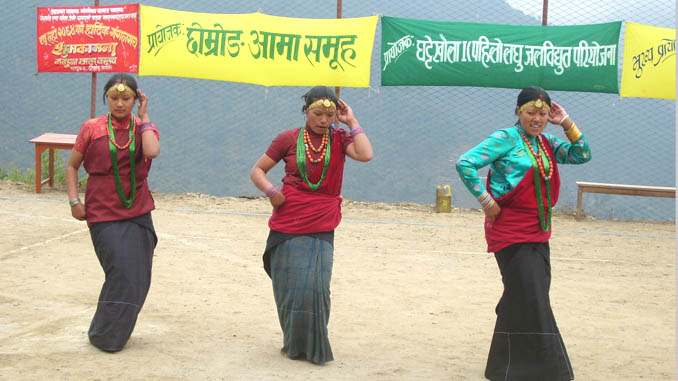 Pictures: Rup Narayan Dhakal