By Rup Narayan Dhakal : Pokhara—Trekking Agencies' Association of Nepal (TAAN) Western Regional Association Pokhara is all set to forge a touristic package of sightseeing encorporating eight lakes of Nepal's Kaski district.
At a time when most of the Kaski lakes are in the verge of extinction, TAAN WRA, on the occasion of 38th World Tourism Day organized a familiarization tour to promote those lakes especially to increase the length of stay of visiting tourists in Pokhara region. According to TAAN WRA Pokhara vice chairman Hari Bhujel, his organization which is marking its silver jubilee wishes to promote Lekhnath region as like other areas that are being promoted by TAAN and other tourism related organizations. "Though the TAAN is the trekking related company, we could also develop hiking trails connecting eight lakes"Bhujel added- we would like to pull Lekhnath out of tourist shadow area.
There are 10 lakes in Kaski district but besides Kamal Pokhari in Bajhapatan and the Kapuche near tourist village Sikles, tourism entrepreneurs from Pokhara, journalist and tourists visited all other eight lakes- Phewa, Gunde, Niureni, Khaste, Dipang, Maidi, Begnas and Rupa- one by one on Tuesday. The journey was inaugurated by Pokhara Lekhnath Metropolitan Mayor Man Bahadur GC by releasing a couple of pigeons at the Shore of Phewa Lake and the group set off for then Lekhnath which is trying to be a garden city of seven lakes.
Human encroachment, pollution and sedimentation are the major threats for Kaski lakes. Nepal's second largest Phewa lake, Gunde, Niureni, Khaste, Dipang and Maidi are in very vulnerable condition as there is not begun any protective measures. Dipang Lake once saw a fail project of Honeymoon Lake during the conflict between Maoists and Government. Begnas which is Nepal's third largest lakes is somehow saved as there was constructed a dam in 2044 BS.
Rupa Lake also is going to have a dam as the government has allocated the budget Rs 1 billion and that the budget has been expandable up to Rs 5 billion. The Rupa Lake Restoration and Fisheries Cooperative (RLRFC) has been using the lake for fishery purpose since 2058 BS. At the same time, Gunde Lake Conservation Committee Chairman Surya Nath Bhandari accused National Lake Conservation Committee of baring the sale and buy of the lands around this lake. Pokhara Valley Urban Development Committee Chairman Sundar Kumar Shrestha however vowed to work on the favor of landlords as per the lawful way even by conserving and developing the lakes.
To attract more tourists and for their easiness, visiting team also suggested the concern bodies to install some information boards as well as the sign postings around those lakes. Hotel Association Lekhnath former Chairman Durga Adhikari informed that they are trying to develop a ring road by connecting the all the lakes of Kaski district but the government is reluctant to support the idea of connecting road. As most of the lakes have ample spaces of wetland, numbers of spices of seasonal birds also are spotted in and around the lakes. So, the lakes also could be the destination of bird watching.
TAAN WRA Pokhara secretary Sushil Raj Paudel guided the visiting team to the respective destinations and also gave a briefing about all the lakes in their showres. Program coordinator Kisham Kumari Gurung thanked all the participants for being a part of promotional tour at the end of the day. TAAN WRA Pokhara advisor and silver jubilee coordinator Dambar Bahadur KC and Silver Jubilee committee sub-coordinator and TAAN former president Tika Ram Sapkota were also present in the PLMC coordinated and NTB promoted program.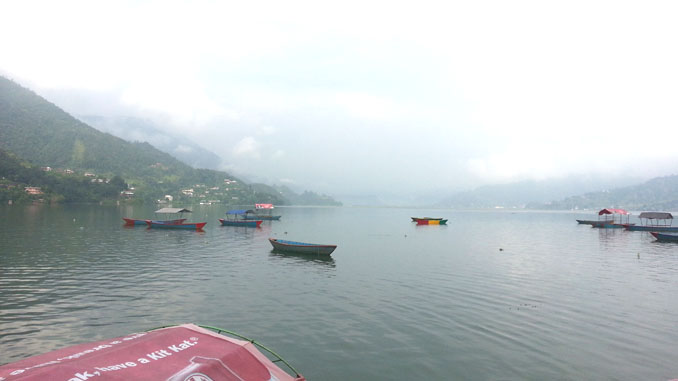 Pictures: Rup Narayan Dhakal