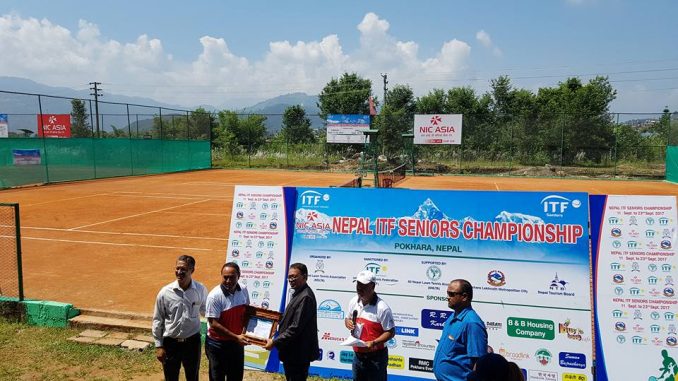 Pokhara—Nepali player Kamal Bahadur Bhandari won the title of NIC Asia Bank Nepal ITF Senior Championship Circuit Lawn Tennis above 35 years age group in Pokhara on Saturday. Defeating Indian player Kamles Sukla 6-4, 6-2 straight set, Kamal grabbed the title.
Likewise Indian Chandra Bhushan became champion above 45 years of age event. He defeated Indian player Balkishan Bhatia 5-7, 7-5 and 6-4 set. Manoj Shumsher thrashed Indian Pradip Kumar Gupta 6-3, 1-6 and 6-4 to win the title of above 55 years of age group.
Arun Agrawal and Dilip Mahanti's team defeated Avinas Kunwar and Kamles Sukla team 6-3 and 6-3 in double event of 35 years of age group. Balkrishna Bhati and Arun Agrawal team outplayed Chandra Bhushsan and Hitendra Panwar team in 45 years above age group. The winner players added 40 points in ITF. Likewise, runner up got 20 points while semifinalists secured 10 points.
Quarter finalist players got five points. The Circuit 2 matches would be held from coming Monday. Kaski District Lawn Tennis Association is organizing this championship in Pokhara Stadium