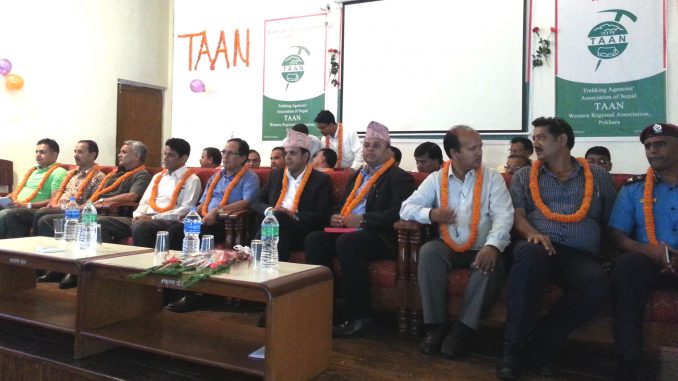 Pokhara—Trekking Agencies' Association of Nepal (TAAN) Western Regional Association Pokhara has commenced its Silver Jubilee programs in Pokhara on Monday. Unveiling a Silver Jubilee logo, Western Regional Administrator Laxman Aryal formally inaugurated the opening program organized in Nepal Toruiam Board (NTB) Auditorium at Damside, Pokhara.
Addressing in a program, Silver Jubilee coordinator and TAAN WRA advisor Dambar Bahadur KC said that his organization has played very vital role for the development and promotion of tourism especially of Pokhara and Annapurna Region. He added that TAAN is a pioneer in the concept of adventure tourism with paragliding and other activities in Pokhara and its surroundings.
Silver Jubilee committee sub-coordinator and TAAN former president Tika Ram Sapkota made public the proposed silver jubilee programs in the event and added that his organization has come a long way in the history of tourism in Nepal. According to him, TAAN WRA Pokhara will host the celebration of World Tourism Day, World Environment Day, Dhaulagiri Summit Day, Annapurna Summit Day, Manaslu Summit Day under the programs of Silver Jubilee. Likewise, blood donation, TAAN Winter Camp and Family tour are also the scheduled program of the Silver Jubilee. In exploration part, Dhaulagiri Icefall Trek, Hidden Lake Trek, Gurung Heritage Trek, Dangsing/Mohoria Trek, Parbat Eco Trek and different hikes around Pokhara would also be included in the silver jubilee program.
Marketing, maintenance and construction of Fewa Fero Trek, Machhapurchhre Model Trek, Kapuche Lake Trek, Millennium Trek and ABC-Mari Trek would also be carried out during the celebration year. Various training programs and publication of promotional materials and the interaction program with various government and non government organizations would also be done during the period.
Bhutan tour, Malaysia/Singapore Tour and Participation in different travel and Adventure Shows in different countries are also the parts of celebration of silver jubilee. Establish Navigation and rescue equipment bank, inauguration of TAAN Pokhara secretariat building, announcement of TAAN Marga (shantipatan –jarebar), TAAN Village, TAAN Forest, TAAN Camp and TAAN Library have been included in special programs of silver jubilee, informed TAAN WRA Pokhara Chairman Deepak Raj Adhikari. According to him, there are 140 trekking agencies under TAAN WRA Pokhara now.
TAAN first vice president Tej Gurung, NTB Pokhara chief Uday Bhattarai, FNJ Kaski Chairman Dipendra Shrestha and PTC former Chairman Ganesh Bahadur Bhattarai expressed their remarks during the opening of silver jubilee ceremony, informed TAAN WRA Pokhara Secretary Sushil Poudel.