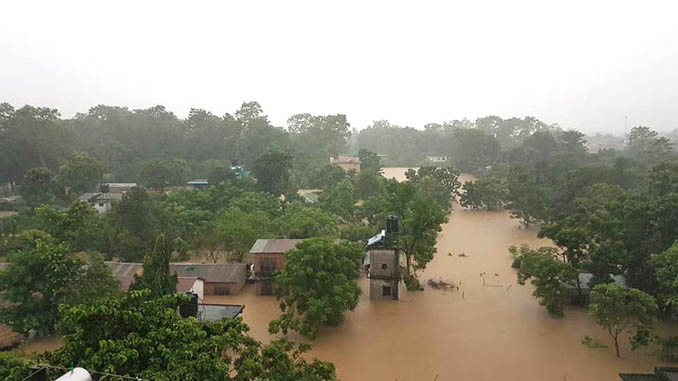 Pokhara—10 more persons died in various parts of Nepal due to flood and landslide triggered by continuous rainfall for more than four days. According to news reports, six persons including a pregnant woman were killed when a jeep they were travelling inundated in flood in Nepal's Rautahat district this morning.
A pregnant woman was being carried for delivery to Rajpur Hospital but ill-fated Indian number plate jeep sank in flood water nearby hospital, informed SP Yagya Binod Pokhrel. According to information, deceased are four males and two females. Jeep driver and one person remained luck as they flee the jeep during the accident.
Likewise, three members of same family were killed when a house they were living swept away by landslide in Surkhet. The incident happened at Sindurkhola village in Gurbhakot Municipality- 6. The landslide took lives of Guman Singh Buda, 83, his grandsons Bikram Buda, 14 and Saran Buda, 12. The incident happened last night and the dead bodies have been recovered by the police.
In an another incident in Makawanpur, one person died and six other went missing as landslips swept away a house and a cattle hut at Ambas Besi. Similalry, more than 110 hotels of Nepal's touristy place Sauraha inundated in flood, informed Regional Hotel Association Sauraha Chairman Suman Ghimire. Around 700 tourists are said to be stranded in this area. More than 8,000 security personnel have been deployed in rescue operation across Nepal.
The vehicular movement in East-West High Way (Mahendra Highway) remained close as road collapsed near Daunne of Nawalparasi district last day. Likewide, A bridge over Dudhaura stream also partially collapsed in Pathalaiya-Nijgadh road section. The transportation has been disrupted in this area too. The death in recent four days in the flood  as of yesterday evening reached 70 and 50 persons are missing, informed Home Ministry of Nepal. Around 34,000 house are inundating in the flood water. Updated: 10.22 am on Aug 14.