By Rup Narayan Dhakal—Pokhara : China CAMC Engineering Company Limited has formally announced that it has already started the construction work of Pokhara Regional International Airport (PRIA) in mid Nepal today.
Speaking in a new airport construction site, CAMCE Asia-Pacific Division No 1 Engineering Department General Manager Gerry Yang informed that the company formally commenced the construction work on July 11, 2017 and expressed his commitment that the new airport would be prepared on July 10, 2021. Earlier today, Civil Aviation Authority of Nepal (CAAN) has organized a formal program to inform about the airport construction progress in Pokhara. After taking part in that program, Minister of Culture, Tourism and Civil Aviation Jitendra Narayan Dev reached to the construction site with Yang and other CAAN officials.
According to Yang, there are working more than 100 workers including engineers in the site. He also sought the full support from Nepal Government and local people from Pokhara for the smooth construction work of the airport. Then Prime Minister KP Sharma Oli had laid the foundation stone of PRIA on 13 April, 2016. The government had acquired 3,106 ropanis of land some 4 decades before; and later, more than 500 ropanis of land was acquired to build a new airport in touristy town Pokhara. The EXIM Bank of China has already approved USD 215.96 million soft loans to build the 4D level new airport in EPC model.
PRIA Construction Project Director Pradeep Adhikari informed that most of the compensations for landlords have already been distributed and the compensation for recently acquired 13 ropanis of land is due to be distributed. The runway of the new airport would be 25,00 meters long and Boeing 757 including Airbus 320 could land and take off from the new airport, informed Adhikari.
Pokhara Lekhnath Metropolitan City Mayor Man Bahadur GC said that his office was thinking of shifting of existing landfill site in new location as the distance between to be built airport and the landfill site is very short. PRIA High Level Steering Committee Coordinator and Chairperson of parliamentary Development Committee Rabindra Adhikari hoped that the new airport would be completed before the stipulated date. At the same time, lawmaker duos Sita Giri and Sharada Paudel urged the government that the appropriate compensation amount should be given to landlords.
Similarly, CAAN Director General Sanjeev Gautam put his suggestion to think about the use of existing Pokhara Airport and the recreational activities running in the sky of Pokhara following he construction of new airport. Pokhara Tourism Council former Chairman Ganesh Bahadur Bhattarai stressed on the need of road and air connectivity to Pokhara from various places.
Likewide, FNCCI former Chairman Anand Raj Mulmi suggested the government to negotiate with the India for more two-way air routes between India and Nepal. Minister Dev pledged the full support to CAMCE for the construction of PRIA and expressed his hope that the project would be completed before the fixed date. Minister of Law, Justice, & Parliamentary Affairs Yagya Bahadur Thapa also was present at the moment.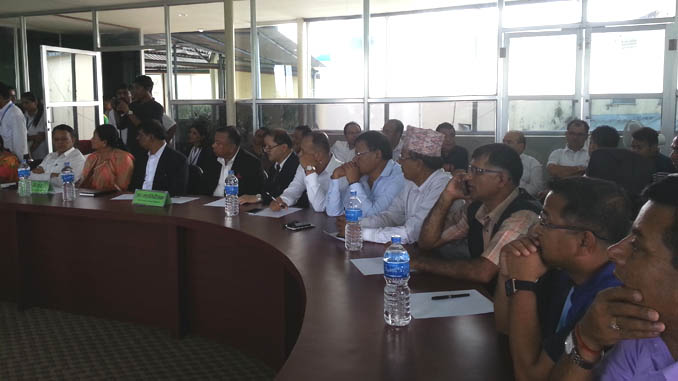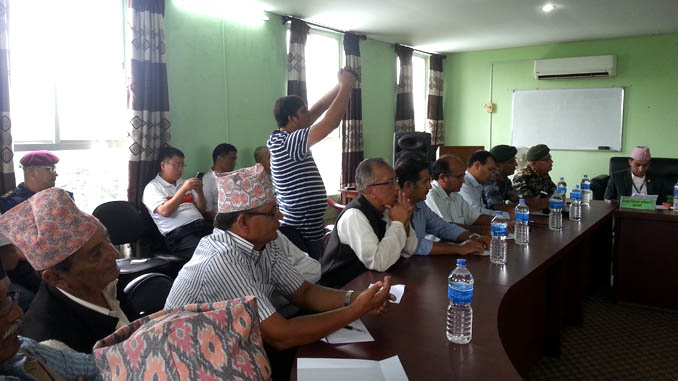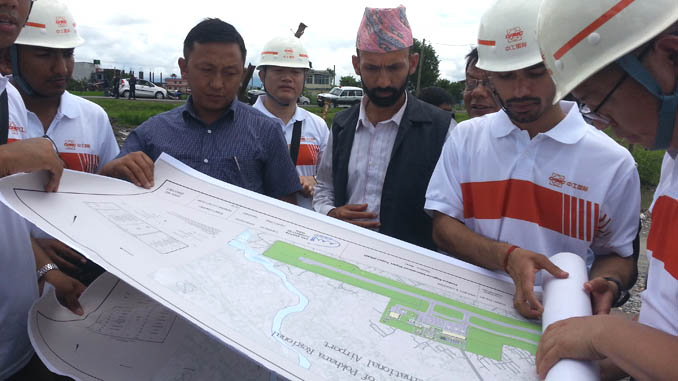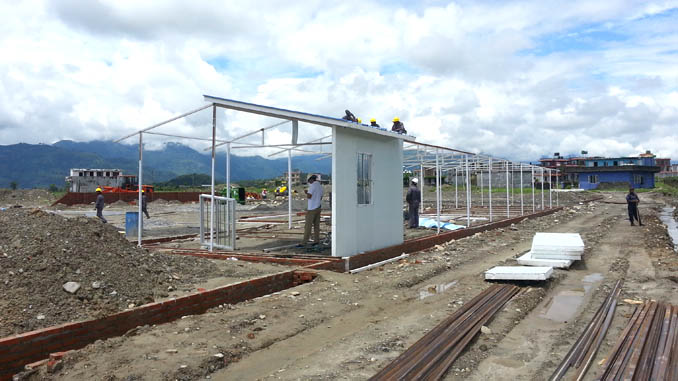 Pictures: Rup Narayan Dhakal