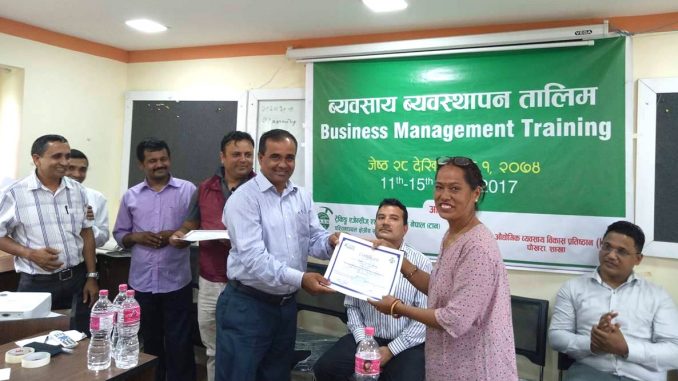 Pokhara—A five day long Business Management training has been concluded in Pokhara on Thursday. Trekking Agencies' Association of Npeal (TAAN) Western Regional Association (WRA) Pokhara and Industrial Enterprise Development Institute (IEDI), Nepal Pokhara chapter jointly carried out this training that was taken part by 22 trekking entrepreneurs.
Pokhara Chamber of Commerce and Industry (PCCI) former chairman Sanjiv Bahadur Koiral distributed the certificates to the participants in a formal program chaired by IEDI Pokhara chief and senior trainer Ram Prasad Tiwari.
Lekhnath Chamber of Commerce and Industry (LCCI) former chairman Baburam Giri, young entrepreneur Prakash Dev Palike and training coordinator Milan Tiwari and TAAN WRA Chairman Deepak Raj Adhikari have expressed their views during the program. The program was hosted by TAAN WRA Pokhara General Secretary Dharma Raj Panthi.