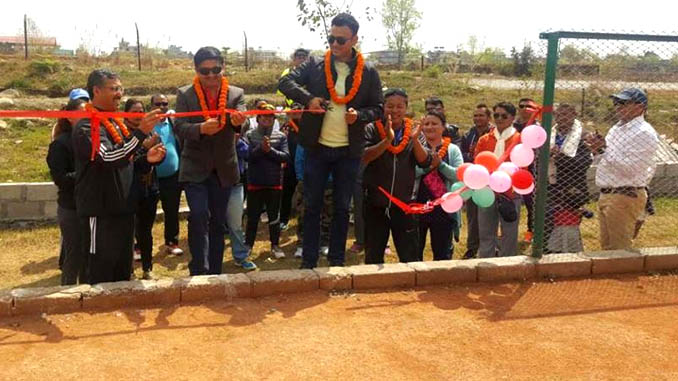 Pokhara: Three newly built tennis courts have been inaugurated in Pokhara Stadium on Saturday. The courts were built in the initiation of Kaski District Tennis Association (KDTA).
The courts were inaugurated by the persons who contributed funds to construct them. Bimal Basyal inaugurated B and B Tennis Court. Likewise, Sury-Prem Tennis court was inaugurated by Kiran KC and the Nepali Hong Kong Tennis Court was opened by Hong Kong Nepalese Tennis Society Chairman Magen Rai.
KDTA also felicitated donors who contributed funds to construct the tennis courts. Tamu Dhi Japan Chairman Sri Gurung was also felicitated for his physical support to build the tennis courts. Similarly, Nepal Water Supply Corporation was also felicitated for supplying water to the tennis court areas.
The felicitation letters were given by KDTA Chairman Binod Kayastha, Western Regional Sports Development Committee Chairman Khaga Raj Paudel and Armed Police Force SSP Krishna Bhakta Brahmacharya.