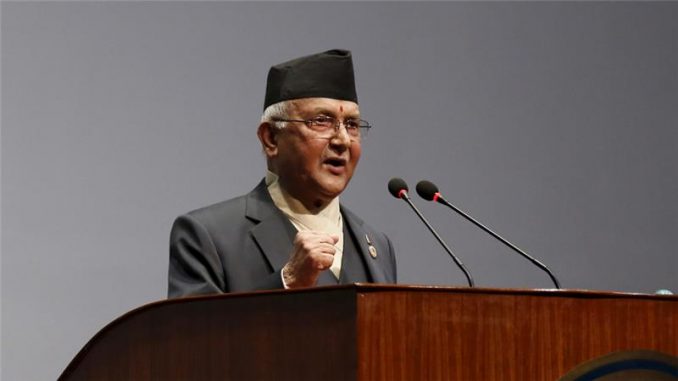 Nepalgunj—Main opposition CPN-UML Chairman and former Prime Minister KP Sharma Oli accused United Democratic Madhesi Front of being responsible in killing of hundreds of people in Tarai.
Addressing a mass meeting organized in Nepalgunj today, Oli charged UDMF of killing 200 people and of being hand in killing of 181 people. He was addressing the mass meeting organized under ongoing Mechi-Kali Campaign of his party.
Chairman Oli also said that the UDMF cadres not only attacking the UML cadres and leaders but also attacking the democracy of Nepal. 'These attacks are against the constitution of Nepal', Oli said. He further added that there could be ruling and oppositions forces in democracy but no one has right to commit crime against democratic parties.
Saying that some forces are wish to fragment the nation in the name of caste, geography and religion, Oli claimed that they don't want to see the developed Nepal. 'They are marching with black flags but we with red flags don't have time to see black flag.' He said. Oli also added that there won't be peace in Madhes until there is Mahesi front. 'They have promoted their wife in minister and government post even though they defeated in elections many times.' Oli said.
Claiming that there is not any discrimination in constitution, Chairman Oli accused UDMF of dispersing illusion over constitution among the Madhesi people. 'They had reached house to vote against CPN-UML's government under this constitution', Oli added- it's ridiculous, same UDMF is now opposing this constitution.
Earlier, UDMF Cadres of agitating torched a bus carrying the CPN-UML cadres in Nepalgunj today. Two UDMF cadres were also injured when security personals opened fire in Sonpur Gonana along the Gulariya-Nepalgunj road section. The cadres were trying to obstruct the program of CPN-UML.