Recentfusion.com—Baglung: A woman was killed following a dry landslide in Nepal's Baglung district today. The incident occurred at Manewapata of Righa village development committee-7 and the Daram Khola (stream) was dammed by the landslide.
The area where the transformer of central electricity transmission line situates was inundated in the pooled water nearby incident site. The woman Man Kumari Nepali, 56, of Righa- 7 was died of electrocuted as she tried to off the main switch of her house following the scene of overturned electricity poles in her village after the landslide. According to police, the insulator of main line to her house was burnt due to irregular high voltage current circulation.
An artificial pool was created as a more than 100 feet high landslide converted into a dam baring the regular flow of stream at around 5 am in the morning. The pool was said to be 200 m long and 20 meter deep. However, the water has started flowing above the dam now.
According to Baglung Chief District Officer Bhagirath Pandey, the landslide disrupted the vehicular movement in a section of Puspa Lal Mid-hill highway.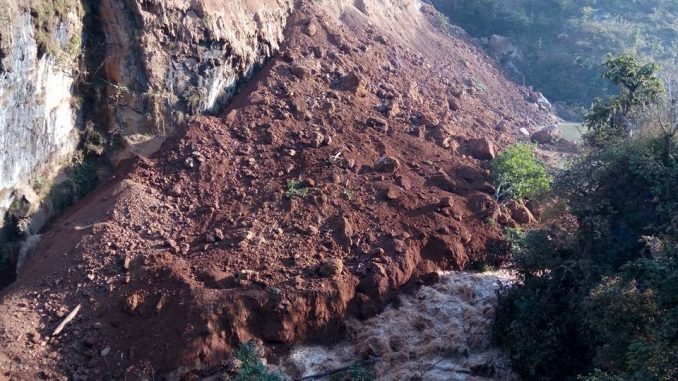 Pictures: Krishna Kandel/FB