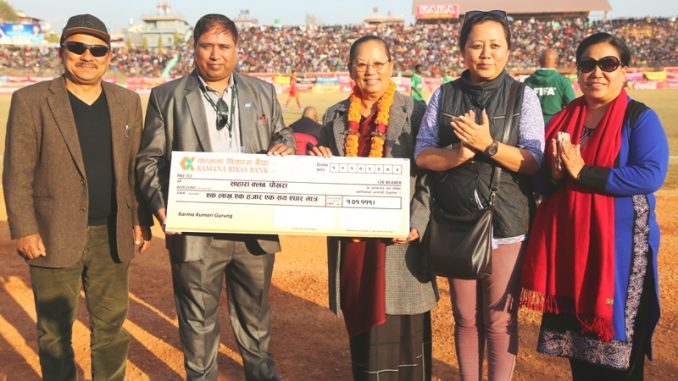 Recentfusion.com—Pokhara: Tamu Dhin Nepal president Mrs. Karma Gurung has donated Rs. 101,111 for a provident fund run by Sahara Club Pokhara (SCP) on Wednesday.
President Gurung handed over a cheque to SCP president Birbhadra Acharya on the sideline of 15th Aaha Rara Football Tournament here in Pokhara Stadium. According to president Acharya, the donation that will be deposited in the provident fund, was established to support the children of Sahara Academy.
Sahara Academy was established in 2058 by SCP. A total of 28 helpless children from 16 districts has been studying and taking the training of football in academy. The academy that is situated in Pokhara Sub-Metropolitan City- 17, Dobilla also provides all accommodation facilities to the children in free of cost.