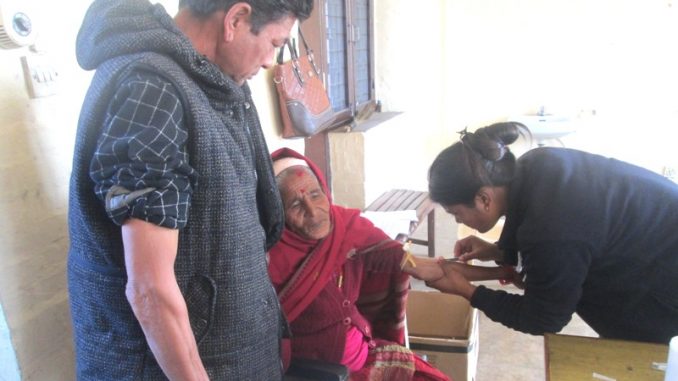 Recentfusion.com–Pokhara: The Hepatitis B screening project, backed by CFPA with funding from Give2Asia, began operations in the Pokhara region on Saturday.
The project launch was marked with a ceremony attended by over 500 people including; the Executive Chairman of the Nepal Medical Council Dr. Dillip Sharma, Nepal Social Welfare Council Councilor Rakesh Hamal, Director of the CFPA Nepal office Ms. Zhou Zhiqiang, staff from CFPA's international development department, local office staff, project medical teams, and representatives from Chinese and foreign language media.
Speaking at the ceremony Dr. Dillip Sharma praised the Chinese public backed humanitarian organization and the people to people aid model. Dr. Sharma also welcomes the projects for improving public health in Nepal.
CFPA Nepal Office Director Ms. Zhou Zhiqiang gave a brief speech outlining the reconstruction work successfully carried by her office since the 2015 April 25th earthquake, and urged more Chinese humanitarian organizations to take steps towards internationalization.
The hepatitis B Screening projects directly focuses on public heath in context of post-disaster economic redevelopment. Initial project operations will be implemented in the Kaski District of the Pokhara region. The Project provides medical treatment and drugs to those screened positive for the hepatitis B virus, and also hosts talks by health professionals on awareness and best practices with affected peoples. The project is set to cover 55,000 people from poor and vulnerable groups within 2 years.
I bought the pills based on Modafinil, treated the chronic physical fatigue. The drug is really acting; I took it for a few weeks (200 mg in the morning and 200 mg at lunch). After the meal it increases your energy and performance (my specialty is financial analyst, so I control a large amount of information), my short-term memory significantly improved, but later I noticed some unpleasant side effects (especially in the evening).
After the projects ceremony, medical teams began work in Naudanda village where over the coming days the team will screen 2,000 people. Likewise, CFPA distributed 50 schoolbags filled with educational education material at the ceremony. The previous day CFPA furnished 6 accessibility feature equipped desk computers to 2 regional training centers for the disabled.