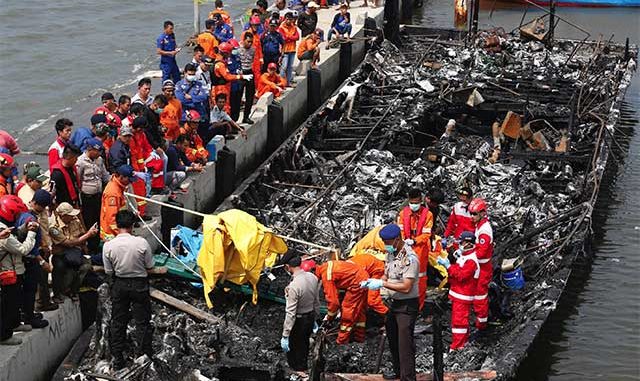 Recentfusion.com—Jakarta: At least 23 persons were killed in Zahro Express vessel incident in Indonesia.
According to, Operation Control Center of Disaster Mitigation Agency (BPBD) of Jakarta, dozens of travelers are still missing and search operation is undergoing. The incident occurred when fire broke out in the vessel. As many as 1 and half a dozen passengers were wounded in the incident.
Some two hundred passengers remained success to save themselves from the deadly fire. A massive fire erupted in the vessel that was carrying scores of local tourists to an island north of the Jakarta on Sunday.
Authorities and witnesses said.there was panic on board as the engine went out of order and blasted, with fire ripping through the boat and prompting many people to jump into the sea to flee. Most of the passengers were believe to be the Indonesian nationals.
Fox40.com reports that police have detained the captain of a ferry that caught fire off the coast of Indonesia's capital, killing at least 23 people Sunday, amid allegations he was the first to jump ship.