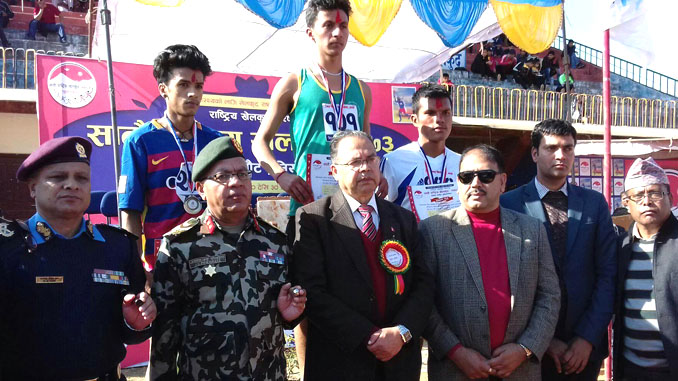 Recentfusion.com—Pokhara: The regional selection of players for 7th National Games has kicked off in Western Region from Monday in Pokhara Stadium. Former Prime Minster and CPN-UML leader Jhala Nath Khanal inaugurated the selection competition.
Rohit Adhikari from Gulmi won the gold medal in 1500 meter race organized during the opening day. Likewise, Prakash Kuwar from Parbat received the silver medal and Chandra Bahadur Malla from Baglung got bronze medal in that competition.
Similarly, Tanahun beat Gulmi 2-0 and Baglung outplayed Kapilvastu in tiebreaker. On cricket, Kaski defeated Parbat by 90 runs and Syangja defeated Rupandhehi by 10 wickets. Likewise, Nawalparasi outplayed Kapilvastu by 10 wickets.
A total of 2484 players from 16 districts are taking part in different 14 games which will be organized till December 15.
The selection for football, cricket, athletics, boxing, table tennis, basketball, handball, volleyball, taekwondo, kabaddi, badminton, chess, weightlifting, shooting including other games would be held in various districts of Western Development Region.
Players from 16 districts took part in March pass held during the opening ceremony.Western Regional Sports Development Committee President Khaga Raj Paudel, WRSDC office chief Laxman Yogi and journalist Dipendra Shrestha expressed their view during the opening ceremony.