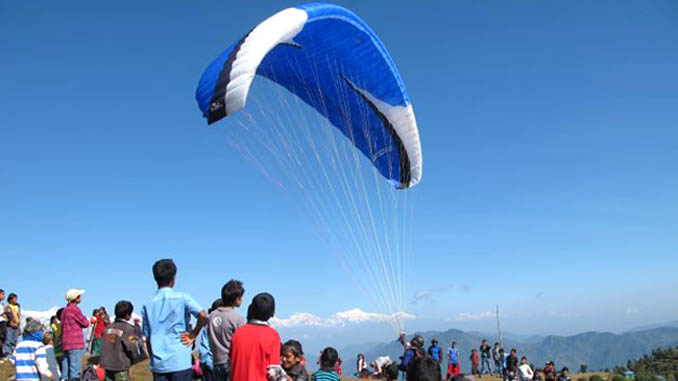 Recentfusion.com—Pokhara: Nepal Paragliding Pilot Club (NPPC) accused Bluesky Flying School (BFS) of doing negligence in the rescue of Shailesh Pahari of Pokhara Lakeside who lost his life during a paragliding training offered by that company at Sworek Maidan of Syangja on last Friday.
In this regard, NPPC has submitted a memorandum to Western Regional DIG Kamal Singh Bom and the Civil Aviation Authority of Nepal (CAAN) demanding a probe over the accident and to punish the culprit, on Wednesday.
NPPC claimed that the company has been operating illegally breaching the government rules and regulations and demanded to close such companies. NPPC president Khum Bahadur Gurung claimed that the BFS conducted the training in Sworek illegally though its authorized office is based in Bandipur of Tanahun.
It has been claimed that the company defied the government directives of flight-halt on that day of VVIP visit of Indian President Pranab Mukherjee and shifted its training location to Sworek from Bandipur without any prior information to government officials.
Pahari's relative Narayan Paudel accused BFS of providing information of accident delay and took long time to take injured Pahari to hospital for treatment. Flights without proper security and rescue measures, involvement of illegal instructors without work permit in paragliding training also are the accusation against BFS by NPPC secretary Hari Bastola.
The club has accused training schools- BFS in Bandipur and Babu Adventure in Sworek of breaching government rules and not meeting minimum basic criteria as per the aviation regulations while providing training to the trainees. According to NPPC, both the training schools have been taking admission of students who have lacked minimum academic qualification and other criteria.
After an appeal by Nepal Air Sports Association (NAA), paragliding service on Tuesday remained closed to mourn the death of Pahari, in Pokhara. A three-member committee led by CAAN Deputy Director Subash Jha has been formed to probe the death of Pahari. BFS owner Narayan Parajuli has been taken in custody by police to investigate the case. It's the 10th death during paragliding in Nepal but first one while on the training.