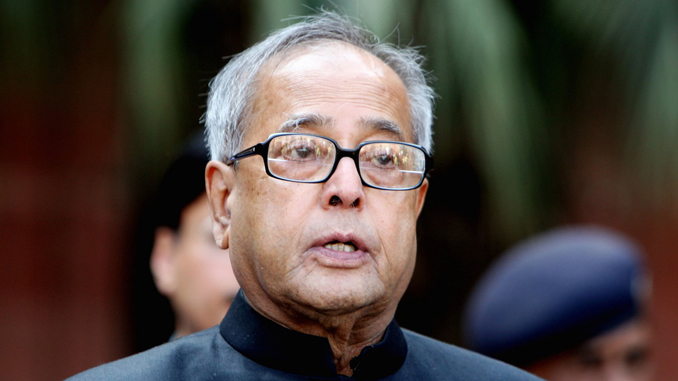 By Rup Narayan Dhakal—Pokhara: Visiting Indian President Pranab Mukherjee arrived Pokhara this afternoon. He landed at Pokhara Airport at around 2.50 pm and received warm welcome from high-level Nepali officials and VIPs from Pokhara.
He arrived here in Buddha Air ATR chartered plane and went to five-star Pokhara Grande for rest and lunch break. He will reach Indian Pension Paying Office Rambazaar at around 3.30 pm to address a mass gathering of Indian Gurkha ex-armies.
According to Western Regional Administrator Khaga Raj Baral who is also a visit-preparation committee coordinator in Pokhara, all total 9 welcome gates have been prepared and roads are well managed for Mukherjee visit. The task of Pokhara beautification was already completed.
Around 1500 security personnel are being deployed for the security of President Mukherjee. Indian Commando will handle the front circle and other circles are being guarded by Nepali Army, Nepal Police, and Armed Police Force.
Targeting his visit, the transportation service in the road from Pokhara Grande Birauta to Rambazaar is being barred for 3 hours. Birauta Chok, Mustang Chok, Nagdhunga, Prithvi Chok, China Pul and Budhha Chok roads could be seen deserted look now.
President Mukherjee is in Nepal for his three day state visit and would remain in Pokhara for 2 hours. Earlier today, he reached Janakpur from Kathmandu to offer a pooja in Janaki Temple. In Janaki Temple he worshiped Janaki and left for Pokhara.
He will return back to Kathmandu from Pokhara at 4 pm and will leave for New Delhi following his farewell at Tribhuvan International Airport.