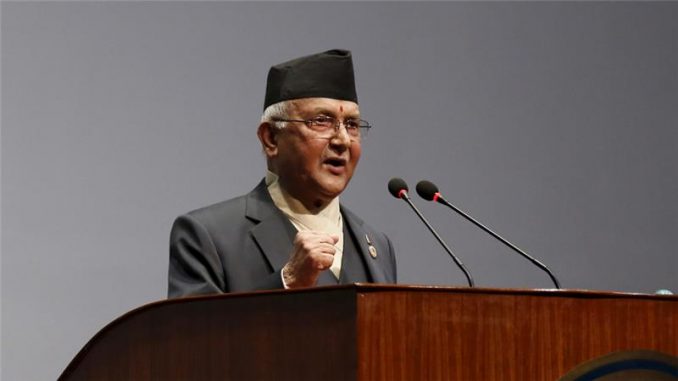 Recentfusion.com—Pokhara: CPN-UML chairman and former Prime Minister KP Sharma Oli Sunday criticized the Prime Minister Pushpa Kamal Dahal's action that he included an internal issue in a joint statement issued during his India visit.
Addressing his party's first gathering of province number IV in Pokhara City Hall, Oli said that incorporating an issue of constitution amendment in a joint statement and signing it was a blunder. "PM Dahal came back to Nepal with black stain in his forehead,' Oli said–it is very shameful for Nepal and Nepali people.
He also added that the gathering he participated was an example of the implementation of the constitution. Oli however claimed that the several forces are conspiring against the constitution of Nepal. As per the constitution, Nepal should hold general, provincial and local elections within the 16 months but according to Oli, if the nation fails to hold these elections within the stipulated time-frame, it would be a situation of massive chaos.
Oli added that the existing government is not serious to hold the elections so, he said, CPN-UML should push the government to hold the elections on time. Chairman Oli said that there was no discrimination in the constitution of Nepal. He however said that reactionary forces are active to create havoc among the different religions, casts and ethnic groups.