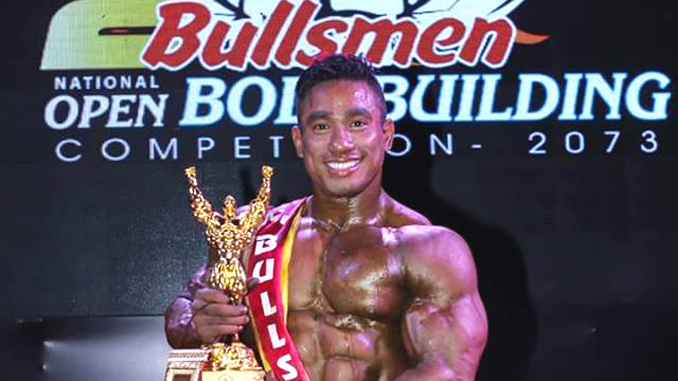 Recentfuson.com—Pokhara: Arjun Barnawal from Nepal Byayam Mandir won the title of 2nd Mister Bullsmen National Open Bodybuilding Championship held at Pokhara City Hall in Pokhara on Friday evening.
Barnawal who is also a winner of gold medal in 75 kg group bagged the price money Rs. 155,555 including a trophy. First Mister Bullsmen National Open Bodybuilding Championship winner Ram Bahadur Dahal and Maheshwor Maharjan who is the gold medalist of 50th Asian Game held in Bhutan also took part in the championship.
Gold medalist Kamal Bhandari from 55 kg group contested in the final and got Rs 15,000. Likewise, Kamal Bhandari also contested from 55 kg group in the final. Gold medal winner Bhandari also got Rs 15,000. Similarly, gold medal winner Sanjiv Shrestha took part in final from 60 kg group. Ram Bahadur Dahal of first bullsmen winner took part in 65 kg group. Ramhari Khanal won the gold medal in 70 kg group. Maheshwor Maharjan contested in 75 kg group and won the gold medal.
According to organizer Bullsmen Club vice president Rupendra Gurung, Surendra Prasad Barma, Gaurav Prasad Shrestha, Kamal Bhandari, Sushil Binduka and Suresh Gurung were selected for the contest of 55 kg group. Likewise, Ramesh Karki, Debendra Bajracharya, Supendra Dangol, Ashish Dhewajoo, Sanjiv Kumar Shrestha were selected for the contest of 60 kg group. In 65 kg group, Ram Bahadur Dahal, Anil Lal Shrestha, Amit Kumar Mandal, Tara Bahadur Thapa Chhetri, Kiran Yadav were selected.
The Bodybuilders from India, Hong Kong, Macau and Nepal were participated the championship. Narayan Pradhan, Sachit Pradhan and journalist Dhana Basnet were felicitated during the event.
Western Regional DIG Kamal Singh Bom, NRN UK adviser Muchhetra Gurung, Bullsmen Club conservationist Sunil Gurung, Kaski District Sports Development Committee president Yam Bahadur Gurung distributed the prize in the championship.