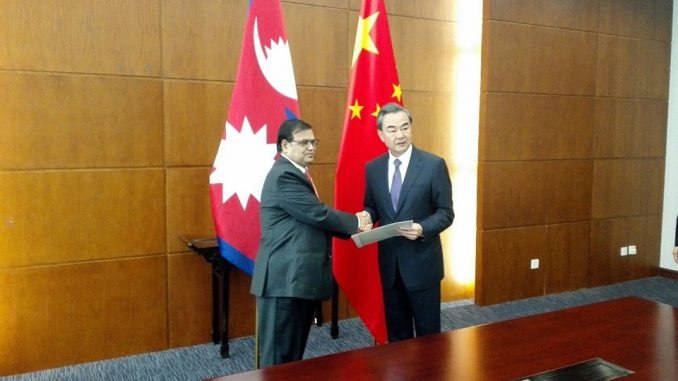 Recentfusion.com—Pokhara: Nepal's Deputy Prime Minister and Minister for Finance Krishna Bahadur Mahara today invited Chinese Prime Minister Li Keqiang and Chinese President Xi Jinping to visit Nepal.
DPM Mahara handed over the invitation letters to his Chinese counterpart Wang Yi, Minister for Foreign Affairs, on behalf of Nepal's PM Pushpa Kamal Dahal and President Bidhya Devi Bhandari, informed Embassy of Nepal in Beiging.
According a press release issued by embassy, the two leaders extensively discussed matters of bilateral cooperation and mutual interests. DPM Mahara vowed to implement the treaties and accords previously signed by two courtiers. Similarly minister Wang expressed his satisfaction over Nepal's effort to maintain regional peace and harmony in South Asia.
A luncheon was hosted in honor of the visiting DPM Mahara by minister Wang at the Ministry of Foreign Affairs, Beijing following the meeting.