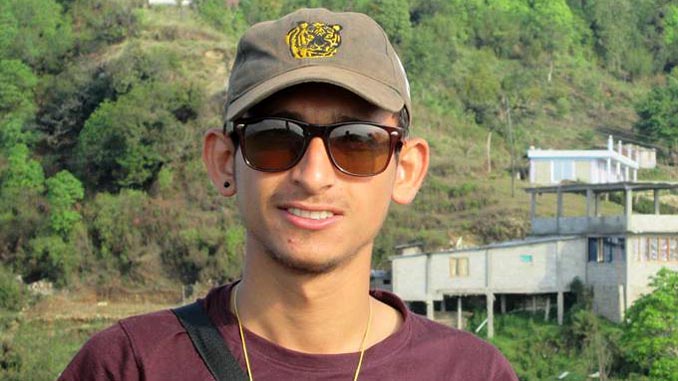 By Prashant Ghimire–Introduction: The lesser adjutant stork (Leptoptilos javanicus) belongs to the order Ciconiiformes, suborder Ciconiae, family Ciconiidae, and tribe Leptoptilni (giant storks), which consist of six species in three genera―Ephippiorhynchus, Jabiru, and Leptoptilos (Elliot, 1994). In Nepal it inhabits in the riverbeds, floodplains, paddy fields, swamps, lakes and forest pools of Chitwan and Bardia National Parks and their buffer zones, Suklaphanta, Parsa and KoshiTappu Wildlife Reserves and their buffer zones, Jagadishpur Reservoir, Ghodaghodi Lake Area, Farmlands in Lumbini Area, and Mai Valley, Barandabhar, Nawalparasi, Dang Deukhuri and Urlabari forests (Baral and Inskipp 2005).
The lesser adjutant stork is usually found in mangrove forests, mudflats, coastal swamps and marshes (Elliot, 1994) although it has also been found in wetlands, pools in forest, rice paddies, and sometimes in agricultural fields and grassland. Lesser adjutant has been listed as Endangered in Red data book in Nepal while vulnerable in IUCN red list (IUCN 2010). Its population is sharply declining in Nepal due to degradation of wetland, use of pesticides in agriculture field, loss of nesting trees and human disturbance. Previously, survey was done in April 2015 (Kawan, 2015) where 38 male, 31 female, four nests with chick were recorded in Rupandehi and Kapilvastu Districts. The study mainly explored the status of lesser adjutant stork within Northern side of Rupandehi.

Objectives: To study status of lesser adjutant stork in Subway and to understand its habitat intersection with other stork species.
Study area: The study was conducted in the Rupandehi district situated in lowland of Western region of Nepal. Southern boundary of Rupandehi is border of Nepal and India. Study area lies above 90m. It included the farmlands of Lumbini which is most potential site of the species. The study area also covered the private farmlands and wetland adjoining to the subway. Annual average temperature of the study areas is 10 to 42 degrees centigrade. The study was carried in June of 2016.
Methods: Subway survey was done by using bicycle. The total distance of the subway was 25 Km, Starting from Materiya of Gajedi VDC to Parsa of Lumbini through Suryapura. Survey was started at 9 AM in the morning to 5 PM in the evening. Total subway was surveyed by using 20*45 mm Binocular. This survey included adjoining farmlands, canal and small wetlands. One way count was done since it was late evening during way back.
Result: The total of 28 lesser adjutant Stork (12 of them were juvenile) were recorded. The maximum number of LAS in flock is three where all of them were juvenile. Most of LAS were observed in the rice planted ploughed field. Some of LAS were observed near to human settlements. LAS were mostly observed with Asian Openbill stork, Sarus Crane and Black headed ibis. Only one Asian WoollyNeck was observed during the survey.
Conclusion: The observation of 12 juvenile in 21 Km road proved the success of breeding of LAS. On the other side, this Survey conclude rice planted swampy farmlands are most preferred habitat by LAS.
Recommendation: Although some increase in the population of LAS can be expected from the survey But it also indicate the somehow decrease in some other Asian Woollyneck. So, extensive research on Stork and summer, autumn and winter count of the stork is recommended to understand their trend with change in seasons.
Acknowledgement: I am thankful to Mr. Bhuwan singh Bist and Mr. Basant sharma who were my teammate in the Survey. Thanks to Green Lumbini Campaign team who have supported me throughout the work. I remember Mr. Chiranjeevi Khanal and Miss Ritika Prasai for their continuous motivation.
References
Baral HS, Inskipp C (2005) Important Bird Areas in Nepal: key sites for conservation. Bird Conservation Nepal and Birdlife International. Kathmandu and cambridge
Elliot, A. 1994. Order Ciconiiformes. Family Ciconiidae (Storks). In: delHoyo, J., A. Elliot & J. Sargatal (eds.), Handbook of the Birds of the World. Volume 1. Ostrich to Ducks. Lynx Edicions, Barcelona, Spain. Pp. 436–465
Baral HS (2004) Surveys for Lesser Adjutant Stork Letpoptilosjavanicus in around KoshiTappu wildlife reserve, Nepal. Forktail 21, 190–193
BirdLife International (2011) Species factsheet: Leptoptilosjavanicus. Accessed on 11 Feburary 2011 at http://www.birdlife.org
Kawan,S (2015) Empowering local women and youth for long term conservation of Globally Threatened Lesser Adjutant in Lumbini IBA, Western Nepal
The researcher could be reached at prashantghimire66@gmail.com