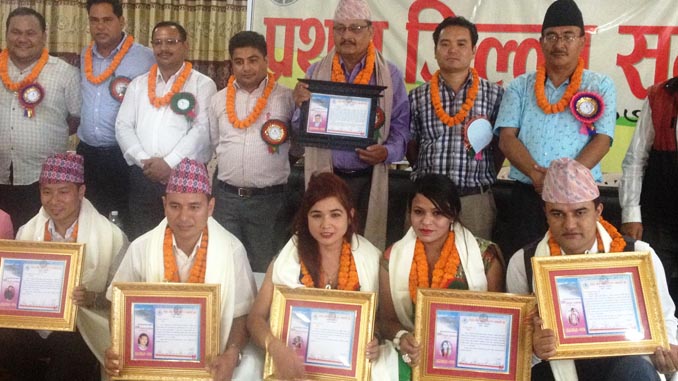 Recentfusion.com—Pokhara: Lok Dohori (Duet song) Restaurant Entrepreneurs' Association's first Kaski district convention elected a new committee unanimously.
Arjung Gurung was elected as a president of new committee. Similarly Arjun Shrestha, Jeevan Gurung, Birendra KC and Bam Bahadur Gurung were selected as vice chairman, secretary, joint secretary and treasurer respectively.
Kumar Pun, Durga Gurung, Manoj Bhatta, Indra Maski, Som Basyal, Ram Lama, Sunil Basnet and Asan Shrestha were elected as a member of new committee.
According to association, there are all total 17 duet song restaurants in Pokhara. 690 staffers are employed in those restaurants where total of 85 million Nepali Rupees have been invested.
Journalist Raja Ram Paudel and culturist Dr. Kushumakar Neupane were felicitated during the convention. Culturist Tirtha Shrestha, singer duo Purushotam Neupane and Hari Devi Koirala felicitated them. Staffers Roshan Gurung, Prem Basyal, Nisha Pokharel and Ranju Baniya were also recognized during the ceremony, informed association former president Sim Gurung. Duet song Conservation Academy Nepal conservationist Prajapati Parajuli also presented the ceremony.