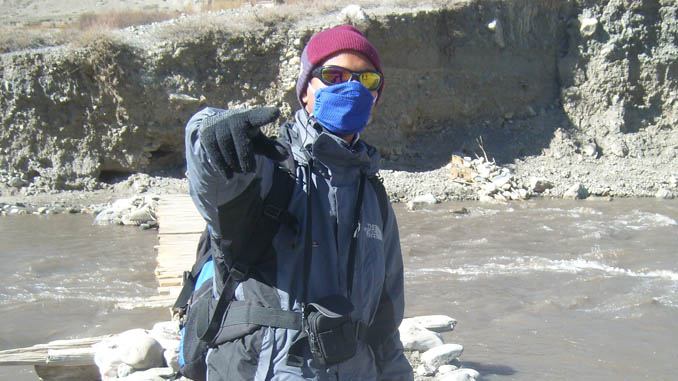 By Rup Narayan Dhakal: I still remember those days of my childhood that some people used to come to my village to sell Jimmu, sewing needles, threads and black salt when the winter season began. They used to be felt different in terms of appearance and attiring than the people live in plain and mid-hill region. They are actually from Nepal's Mountainous region and are called Bhotias (posse surnames Bista, Gurung and Biswakarma) who especially follow the Buddhism.
I had visited one of the origins of them to feel natural, cultural and geographical wonders in 2008. The place was Upper Mustang and it's an ancient village- Lomanthan, of Nepal. So, after doing a world famous Round Annapurna Trek and some other short treks, I was here in Upper Mustang to feel and enjoy the lively Tibetan culture, rocky terrain and awesome views of mountain ranges.
The journey started on the 6th of December from Pokhara and ended on 13th of that month in 2008. Before starting the trekking, I traveled in taxi, bus and jeep to arrive Kagbeni from where the Upper Mustang and its trekking begin. The first night-stay took place in Jomsom, the district headquarter of trans-Himalayan Mustang. First day I hiked to the terrain of Kaligandaki River where I searched some Saligrams, a kind of black stone is known as an incarnation of lord Bishnu. On the way, I saw hordes of deer, dozens of alcoves pierced in the sandy wall of Kali Gandaki River which are believed to be the settlements of human ancestors.

The taste of golden apple in Chussang village was unforgettably delicious and juicy. My friend Ram Gurung felt amazing when he saw the large fleshes of meat hanging in the kitchens of that village. He loves dried meat very much and I didn't miss it in my lunches and dinners. Journalists- Ram Krishna Gyawali, Prem Nepali, Krishna Mani Baral and Narayan Acharya also were in the team. Bishnu Gurung welcomed me in Tsaile saw my 2nd night. Similarly Tamagaon, Tsarang and Lomanthang were my other night-stays when I was ascending the course.
I could see vegetation hardly around the regions however a plant named Bhotia Pipal was extraordinarily in existence here. It is used as a house pillar and support of the rooftop in those areas. A kind of thorny plant that is grazed by yaks, sheep and mountain goats also could be seen here. Food grains and roots like barley, buckwheat and potatoes are the main consuming stuffs in those areas.
I faced chilly blow of wind most of the times and I had worn warm jacket, gloves and high-tech boots to save myself. Black glasses were helping me to face the whitely shining snowcapped mountains. I crossed icy streams and saw water taps changing into ice sticks while on the trekking. I used toilet papers instead of water in the rest room. I didn't wash my face in most of the mornings however brushed my teeth. I was seen like a Bhotia due to my long beard, moustache and dusty clothes.
The night in Tamagaon remained very inconvenient due to lack of warm bed and quilts. Without hot water and tea, the time-pass was hard here. Locally brewed liquor and flour porridge (dhindo) made my evenings easier. I took hundreds of digital photographs, chitchatted with my friends and unfolded rough words when faced hard walking. Dusts and regular wind-blow are unavoidable things here. The elevation of our trekking areas was in the range of 3,700m and the high altitude problem was not occurred on me.
Lo Manthang was our major destination where I arrived on the 4th day of our trekking. It is the only living walled city of Nepal built in 1380 AD by the first King of Lo, Ame Pal. the wall is 2472 feet long and 26 feet high, 6 feet wide with huge wooden gate. At the time of the 1991 Nepal census, Lo Manthang had a population of 876 people residing in 178 individual households. The last king of Lomanthang is Jigme Palbar Bista but the monarchy was scraped here along with the abolishment of central monarchy in Nepal.
The village is in the bordering area of Chhoser village touches the bordering areas of neighboring China. There are ancient gompas like Jhampa and Thupchen in Lo Manthang. I also watched the miraculous five storied cave in the cliff of Chhoser village where I arrived riding the horse. It was my first experience on the horseback remained amazing. That area is also famous for ancient trade route and Khampa rebellion.
Agriculture, animal husbandry and seasonal migration to the cities and mid hills during the winters are the major trends of the villagers of Upper Mustang. Gradually tourism is becoming one of the sources of income. Ancient chhorten, mahne, prayer wheels, colorful prayer flags, firewood atop houses and dozens of caves are the other attractions of the area. Mustang and Upper Mustang are known as rain-shadow areas that have especially short houses with mud-built rooftops. Clear blue sky and sunny days are also good to feel there. The organized trekking is better for the Upper Mustang. Telephone and electricity facilities are available in most of the villages and the internet could be surfed only in Jomsom, district head quarter of Mustang, and Lo Manthang.
Foreign antinational who wishes to visit the Upper Mustang should pay USD 500 for 10 days to Nepal Government that opened the area to tourists in 1992. The whole Upper Mustang is falls in the Annapurna Conservation Area Project running under National Trust for Nature Conservation. Nepal Tourism Board helped us to trek to that area. Since this area is semi restricted area for trekking, foreigners must have to pay $500 for 10-day trekking of Upper Mustang; after 10th day, they have to pay $50 for per day to Immigration Department of Nepal. Since this area falls inside Annapurna Conservation Area Project (ACAP), trekkers must have to pay NRS 2,000 to that project as entry fee. Similarly some money should be allocated for Trekking Information Management System (TIMS) to Nepal Tourism Board (NTB) or Trekking Agencies' Association of Nepal (TAAN).