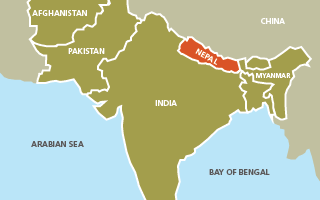 By Ranjan Malla–The question- is it opportunity or problem for Nepal to be sandwiched between two giant China and India has been remaining disputed issue for years. Both the sides have their own arguments on the issue but logic behind their claims is not satisfactory enough.
Nepal is amply influenced by the culture and family relations from the southern neighbor but such connection hardly could be found with the northern dragon. But important phenomenon is that the diplomatic relation of Nepal with both the countries seems similar.
In this scenario Nepal doesn't seem active enough to convert that existing relation as an opportunity for the sake of development and well-being of its people. Is Nepal yam, dynamite or diamond in between China and India is an important question. Whatever the issue is, Nepal need to utilize this relation for the development of the country.
The economic growth of both the neighbors is higher than the Nepal and population and lands are also very bigger than Nepal. So, Nepal can take benefit from these two giants.
The news reports show that both the countries want to extend their railway lines to the Kathmandu. If it happens, this extension would be the corner stone for the development of Nepal. However Nepal government should know the importance of such extension and remain helpful for those possible future projects.
In the context of Nepal, china and India have their own interest here but Nepal should understand their concerns and should work wisely not hampering the sovereignty of the country as well as the diplomatic relation to the neighbors.
In Nepal, issue of Tibetan refugees is main concern of China while cross border terrorism and fake notes are India's.  There might be such long list of such interests but Nepal should work remaining in equidistant to both the countries.
Recent embargo imposed by India created very difficulties in Nepal; knowing that- for future, Nepal and china should work hand in hand to open the northern border points for the well being of Nepal and China. Such step should be taken easy by Indian side as well. So, Nepal as a small and developing country should coordinate with those giant economies.