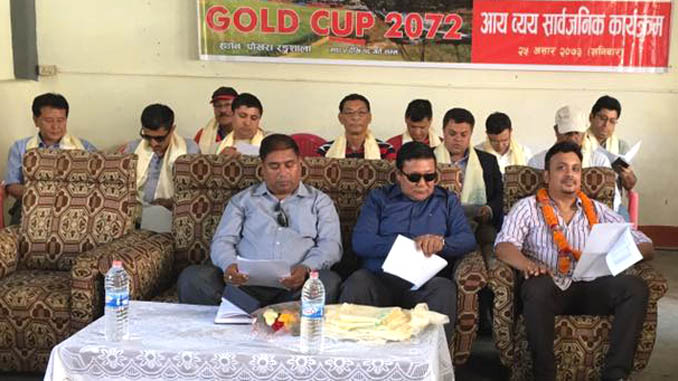 Recentfusion.com—Pokhara: Sahara Club Pokhara has saved 3.5 million rupees from 14th Aaha Rara Gold Cup Football Tournament that held 5 months before in Pokhara Stadium.
Organizing a press meet few days ago, the club informed that the total income of tournament was 9.7 million rupees and above mention saving appeared deducting all the expenses, informed Prakash Sherchan, coordinator of finance sub-committee.
In spite of hard time following the last year April earthquake and Indian embargo in Nepal, all total 4400 audiences bought tickets from the stadium gate to watch the tournament.
Himshree Foods Pvt. Ltd., producer of Aaha Rara noodles was the man sponsor of the tournament. According to Sahara Club President Vir Bhadra Acharya, the club has been investing all the saving from tournament to Sahar Academy in Dobilla of Pokhara where 27 children from 16 district are reading and learning football skills, for years.
Himshree Foods executive president Surya Bahadur KC expressed his satisfaction that his company has been supporting such a club like Sahara to develop the football activities in Nepal. He also assured further cooperation with Sahara in the days to come.